Westlake Employees Sponsor LAFH Birthday Celebration for Children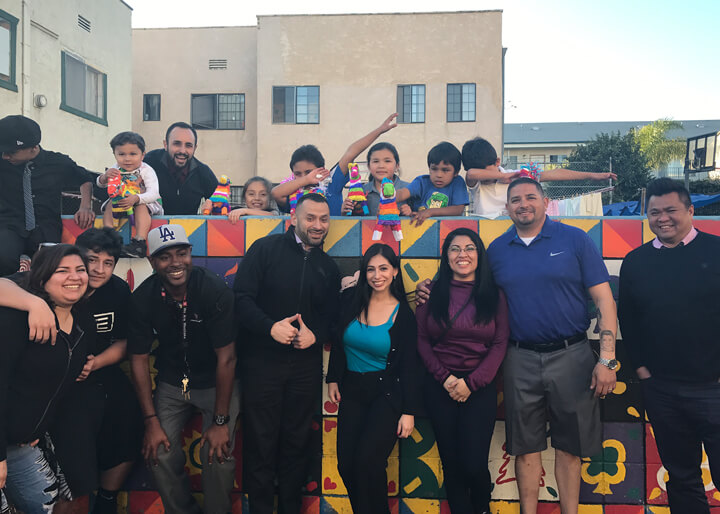 (April 11, 2017) Los Angeles, CA – Employees at Westlake Financial Services recently partnered with Los Angeles Family Housing (LAFH) and sponsored a day of arts and crafts, a bounce castle, piñatas, dance contests and gifts for all the children living in The Chavez Apartment building.
"At LAFH, it is very important that we make the children's time with us as enjoyable as possible, and that would be difficult to achieve without our community partners," explained Steven Gray, Volunteer & Donations Manager – LAFH. "Employees at Westlake Financial Services recently provided their time, gifts and monetary donations to sponsor a special monthly celebration for the children whose birthday it was in that month."
The Chavez Apartment in Boyle Heights is run by LAFH and houses families transitioning out of poverty and homelessness. It contains 27 units, with over 100 residents, and up to 70 children in any given month.
"I am proud to be part of a company that has community-minded employees who consistently volunteer their time and energy to a variety of events and nonprofits throughout the year. We look forward to sponsoring more birthday celebrations for the children supported by LAFH in the future," noted Karen Salcido, Dealer Account Manager – Westlake Financial Services.
About Westlake Financial Services: Westlake  Financial Services is an internet based, privately held finance company that specializes in the acquisition and servicing of prime to sub-prime automotive retail installment contracts. Headquartered in Southern California, Westlake originates indirect retail installment contracts through a nationwide network of new and used car dealers throughout the United States. Westlake also offers portfolio purchasing through their ALPS division (Advanced Lending & Portfolio Services); www.WestlakeALPS.com. Direct to consumer title loans and unsecured loans are done through Westlake's wholly owned subsidiary, Wilshire Consumer Credit. Flooring lines of credit are done through their Westlake Flooring Services division; www.WestlakeFlooring.com. All collections and servicing are performed in-house from its central facility located in the Mid-Wilshire area of Los Angeles. www.WestlakeFinancial.com